WHA Group Signs MoU with Samitivej Hospital for Cooperation on Digital Healthcare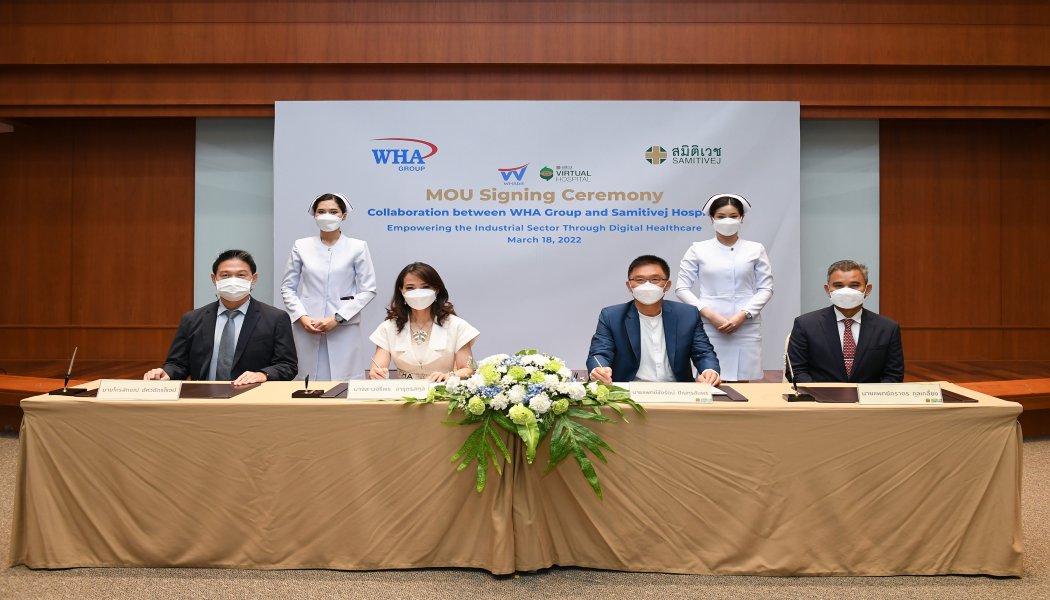 Bangkok, March 18, 2022 – WHA Corporation PCL and Samitivej Hospital announced the signing of a Memorandum of Understanding (MoU) to promote and develop digital healthcare. The aim is to enhance the accessibility to healthcare services and solutions for all employees and customers of WHA industrial estates and properties, through its new WHAbit digital application, and Samitivej's virtual hospital platform.
The MoU agreement will enable both parties to explore and study the end-to-end workflows and processes needed to provide the most effective delivery of online healthcare solutions and services that connect with the offline channel. This includes telemedicine, health check-up, non-communicable diseases (NCD) clinic, smart clinic, pharmacy, data analytics and other relevant services.
WHA Group pledges to identify resources and infrastructure to provide to its newly launched digital health application, WHAbit, which will be fully operational soon. It will also provide
market information, pain points and requirements that will be used to design and enhance healthcare solutions and services offered by Samitivej through its virtual hospital platform.
For Samitivej, this collaboration consists of providing medical services, including access to medical professionals from Samitivej Hospital's network, enabling delivery of digital healthcare solutions and services through the WHAbit application. It will also provide the hospital's facilities and services so that WHAbit users will have all complementary information in addition to online services. Moreover, it will identify or share resources and basic infrastructure to connect Samitivej's solutions and services to the WHAbit application.
During the signing ceremony, Dr. Chairat Panthuraamphorn, Managing Director and CEO, Samitivej and BNH Group of Hospitals, said: "This MoU represents an innovative partnership between the industrial and health sectors, and we are proud to partner with WHA Group, a leader in fully integrated logistics and industrial facilities that embraces technological advances to achieve its goals. I am confident that the collaboration between WHA Group and Samitivej Hospital will break healthcare barriers by bringing health and wellness to a broader audience. The strength of Samitivej Hospital lies in its medical expertise and experience in telemedicine, ensuring significant changes and innovations. With WHA Group's support, we aim to utilize the most advanced digital technology to provide various health services such as diagnosis, treatment, health restoration, and disease prevention. This partnership will benefit the industrial sector, help attract investors to the EEC and contribute to the country's economy."
Ms. Jareeporn Jarukornsakul, Chairman and Group CEO of WHA Corporation PCL. said: "Signing this MoU with Samitivej Hospital is an important step for WHA Group. We are proud to be among the pioneers of the digital healthcare business, and to provide this service to companies at WHA industrial estates. At WHA, we aim not only to provide a healthy work environment in our industrial estates, but also to improve health and wellbeing. Aside from providing 24/7 access to efficient medical services, digital healthcare can help lower medical costs, while raising awareness on health and wellness. It also benefits the community as it also helps reduce congestion at health and medical centers."
"WHA Group has developed the WHAbit application under the corporate wellness concept, to provide easier access to health care. It received positive feedback from WHA Group employees back in 2021, reflecting WHA Group's commitment towards innovation and technology in order to create a healthier work environment."
The WHAbit application is a digital health tool that will enable WHA subscribers to manage their own health and wellness. Available to employees, customers and companies at all WHA
industrial estates by Q3 of 2022, WHAbit will facilitate virtual consultations with highly qualified doctors for prompt diagnoses, treatment and medication. The WHAbit application is primed to be the perfect digital tool to accompany users on their health journey for a happy workplace and a healthy life.
Samitivej Virtual Hospital was launched in March 2019 and has since undergone constant development. We provide a comprehensive range of healthcare services capable of improving the lives of our patients with utmost speed and convenience. This focus on innovation has seen Samitivej Virtual Hospital recognized at home and abroad, recently receiving the following 4 awards:
· Prime Minister's Export Award 2021: Best Service Enterprise Award (Health & Wellness) for outstanding healthcare services offered through Samitivej Virtual Hospital, Samitivej Plus and Precision Medicine.
· Product Innovation Awards 2021: For outstanding Samitivej Virtual Hospital healthcare services.
· GlobalHealth Asia – Pacific Awards 2021: Smart Hospital of the Year in the Asia-Pacific region.
· Thailand Digital Excellence Awards 2020: Thai Digital Champion for Business Innovation.
For more information, please contact:
WHA Corporation Public Relations
Khun Wandee Lerdsupongkit (081 838 4001), Khun Pawida Charoenmuang (093 925 6434) Email: pr@francomasia.com
Samitivej Hospital
Khun Sasikarn Lertsitthichai – Brand Communication
Email: Sasikan.le@samitivej.co.th
Tel 020-222-443