Well application by Samitivej
Well by Samitivej
Well by Samitivej : App for Healthy Lifestyle
Well by Samitivej is an application designed to help users maintain a healthy lifestyle on a daily basis. The application includes healthcare plans based on an in-depth AI analysis of your health information, supplemented by expert input from Samitivej specialists. The personalized plans resulting from this analysis incorporate food and exercise regimens that can be connected to a smart watch. Additionally, the application provides access to your Samitivej medical records. Users can enjoy collecting Coins to win many prizes upon completing daily challenges.
Download Application
---
Personalize your health plan with an AI-powered app that comes with an array of features:
---
1. Food
Personalized dietary advice, for categories including health enthusiasts, the elderly, diabetics, patients with high blood pressure, people with heart disease, cancer patients, and pregnant or breastfeeding mothers.
Plan: Personalized healthy dishes, which will help reduce risks to health.

Daily: Menus with nutritional benefits for each meal Report: A summary of the calories consumed and burned each day, which is used in plan adjustments, ensuring user is clear on what needs to be done to achieve their goals.

Coins: Collect coins which are awarded for the completion of daily tasks and which can be exchanged for a range of rewards.
Download Application
---
2. FIT
An exercise regime with input from specialists in the field, allowing users to exercise regularly while reducing injury risk for better results. A range of challenging exercises is offered to make daily exercise more exciting.
Plan: A daily exercise plan that is automatically adjusted each week using an AI system to ensure suitability and compliance with the user's objectives.
Daily Tasks: Tasks are assigned to users each day to help them reach their goals.
Challenges: More challenging daily tasks to test your fitness levels.
Report: An auto-generated daily summary of physical activity.
Coins: Coins can be collected for completing daily tasks and can be exchanged for a range of rewards
Download Application
---
3. Samitivej
The application can be connected to Samitivej Hospital medical records, appointment service, video consultations, treatment history, check-up reports, payment information, and medicine delivery services.
Samitivej Virtual Hospital: Here you can meet a doctor, receive a diagnosis, and receive advice online at any time, anywhere.
Medical History: Check your outpatient treatment history, including diagnostic reports, prescriptions, laboratory reports, X-ray and ultrasound results, and check-up reports.
Appointments: Access upcoming appointment information, find a doctor, check doctor schedules, and schedule doctor appointments online.
Payment: Instantly pay for services via the application using your credit card or by QR code payment.
Download Application
---
4. Health Checkup
Screening is used to analyze the risks of heart disease, diabetes, and colon cancer, which can then be used to inform a personalized healthcare program aimed at reducing that risk to your health - it's like having your own personal doctor on hand 24 hours a day. The application combines expert input with the latest in AI technology to provide tailored advice for better health.
---
There are also a range of other features available:
Health Articles: A comprehensive range of health-related videos and articles.

Promotions & News: Information on the latest discounts and promotions available to members.

Feedback: Register your feedback, which will be used to continuously develop and improve our services.
Download Application
---
MITR MOM | Personalize your pregnancy journey any way you like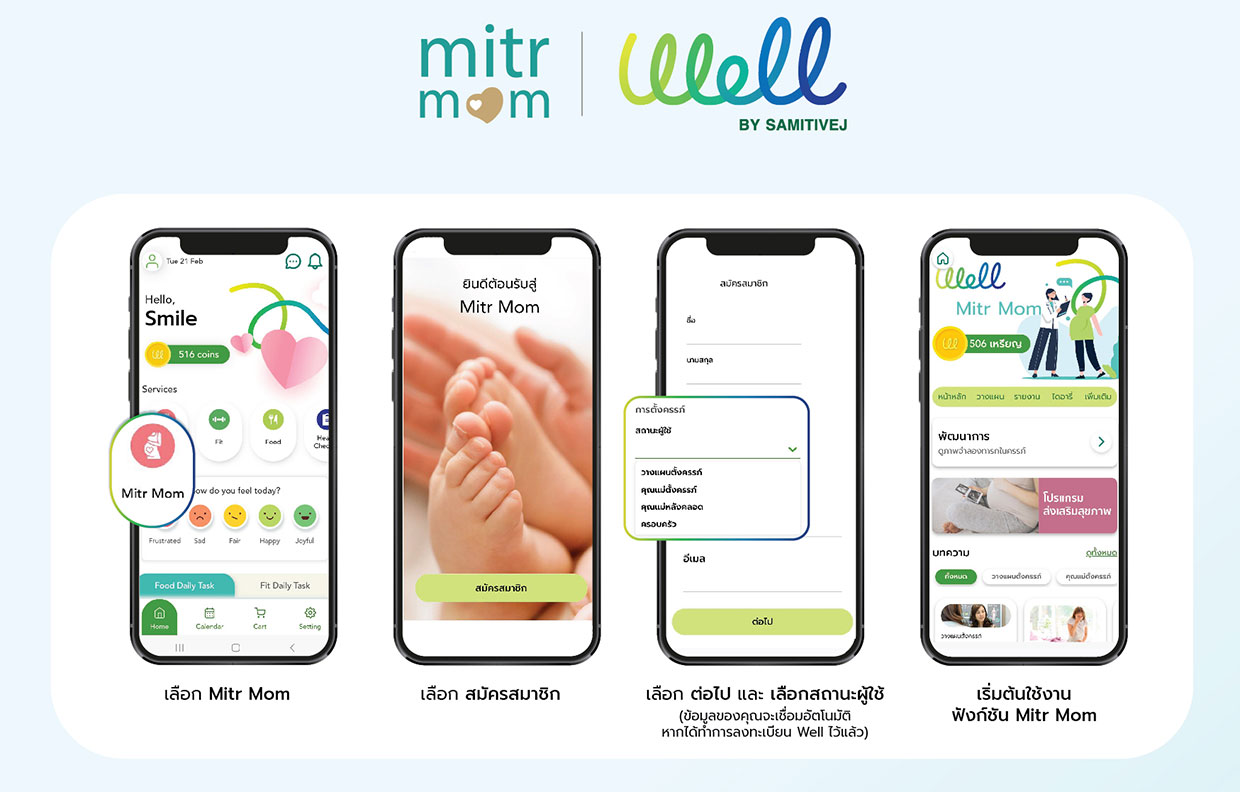 Mitr Mom is a digital platform that stores all healthcare information for pre- and postnatal mothers in one place. The application makes it easy for users to access data from healthcare services provided by our expert medical staff at 6 branches of the Samitivej
Health Records: Health monitoring assistant during pregnancy for health records. Mothers can view and record laboratory results and ultrasound images.
Mom's Diary: A place for mothers to record and share their impressions of this extra special time
Baby Development: Understand more about the development of your little one throughout the duration of a 40-week pregnancy with our 3D images and handbook of important information, which offers key details on the changes women can expect to undergo as they enter each trimester.
Baby Movement: This is where mothers can record and store notes about their baby's kicks while inside the womb.
Download